Rockland Neighbourhood Overview
Rockland is an historic neighbourhood, located southeast of downtown and inland from the Strait of Juan de Fuca, just above Fairfield.
The neighbourhood was founded as, and remains as one of the tonier neighbourhoods in the city. It contains a notable concentration of grand homes, heritage architecture and lush gardenscapes. The two largest, and most famous, of Rockland's residences are the Craigdarroch Castle built by the Dunsmuir fortune, and Government House, which is the residence of the Lieutenant Governor of British Columbia.
Some of the area's most famous architects designed many of the homes in Rockland, including Samuel Maclure and Francis Rattenbury, who also designed the Provincial Legislature.
Most of the housing in Rockland is single family, but there are a handful of streets that have multifamily low-rise apartments, townhomes or large historic home conversions.
The Art Gallery of Greater Victoria and the Langham Court Theatre are both located in Rockland.  And you are in easy walking distance of the waterfront, downtown and the boutique shops of epCook Street Village or Oak Bay Avenue.
What We Love
The large trees and lots with mature landscapes that many of the homes enjoy make this neighbourhood perfect for families that want a little extra space, curb appeal and privacy. Add the history and architectural significance of many of the buildings and you have a history buff's dream neighbourhood.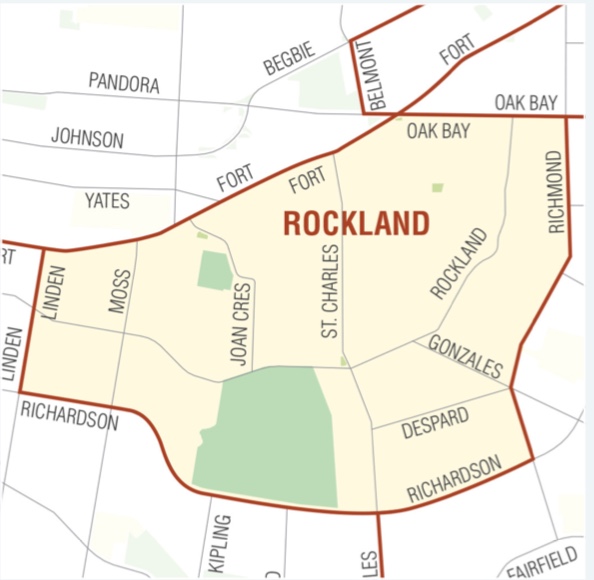 Low to mid 70's – nice walkability, but you will likely need to jump into the car for groceries, etc.  The topography of the area also means there may be a few more hills and moderate inclines. Price range from $915,000 to $3,950,000
Average price: $1,990,254
Median days on market: 20
*2021 No schools are located within the official borders of Rockland, however children typically attend private schools or the nearby public schools of Margaret Jenkins, Sir James Douglas, Central Middle School, Vic High or Oak Bay High – all of which are less than a ten minute drive.
Price range
condos from $391,000 to $1,898,000
townhomes from $765,000 to $1,802,000
Average price: condos $664,846 townhomes $1,271,167
Median days on market: condos 22 townhomes 22
*2021