Cordova Bay Neighbourhood Overview
Located north of Mount Doug Park and bordered by the ocean on the east and the Pat Bay Highway on the west, Cordova Bay extends to the southern border of the Municipality of Central Saanich.
In the early 1900s, Cordova Bay was a seaside summer resort accessed from Victoria by stagecoach and train. It has one of Greater Victoria's finest sandy beaches with a number of public access points.  The Beach House, one of Victoria's only seaside restaurants, is also located right on Cordova Bay and is a popular community gathering spot.
Cordova Bay is also the home to the 18-hole Cordova Bay Golf Course and the nine-hole pitch and putt Ridge Course. Mattick's Farm, a California style shopping centre, is located directly adjacent to the Cordova Bay Golf Course and features a variety of shops and cafes and is definitely worth visiting whether you live in the neighbourhood or are just passing through.
Most of the real estate for sale in Cordova Bay is single family homes, but there are a number of townhome developments along the waterfront and a mixed townhome and condo development at Sayward Hill, many of which have beautiful distant ocean vistas.
What We Love
The feeling in Cordova Bay is that you are "away from it all" in a rural setting, in a small seaside town or lake country setting. Yet, downtown Victoria is still an easy 15 or 20-minute drive. We love grabbing lunch on the deck at the Beach House and then walking along the Cordova Beach.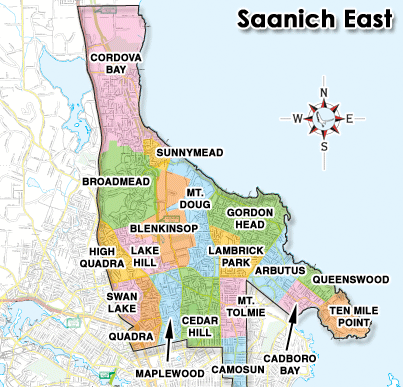 The mid 40's with some errands accomplished on foot but most errands will require a car Price range from $825,000 to $3,950,000
Average price: $1,636,147
Median days on market: 10
*2021 Cordova Bay Elementary
Claremont Secondary
Prices range
condos from $699,000 to $2,025,000
townhomes from $749,000 to $1,929,000
Average price: condos $1,258,385 townhomes $1,147,286
Median days on market: condos 24, townhomes 6
*2021