Downtown Victoria Overview
Downtown Victoria is dominated by highrise and walk-up condominiums and apartments with a few duplexes, townhomes and single family homes on the border streets of Fairfield, Fernwood, and Rockland.  Unlike large metropolitan cities that can feel a little cold and faceless, Victoria's downtown still feels hometown and is considered to be one of the premiere travel destinations in the world. In fact, Victoria was recently ranked #2 in the Top 20 Best Small Cities in the World by Condé Nast Traveller Magazine.
In the last few years there has been a significant increase in the number of new high-rise condominiums being built. They offer "urban living", the latest finishes, and the many amenities that a downtown location offers including the Inner Harbour, art galleries, theatres, music venues, countless restaurants and shops.
"In the sky living" offers numerous benefits, including a lock-and-leave lifestyle, light filled spaces, floor-to-ceiling windows and often spectacular water, city or mountain views.
Overall, the newer buildings have mastered the art of small spaces and what they lack in square footage, they make up for in finishes.  Older buildings tend to provide owners with larger footprints but may require some renovations to improve the overall aesthetic.
What we love
The walkability, the bike lanes and the unique personality that the different streets or micro-neighbourhoods provide. Looking for authentic edge – check out the condos near Fisgard, China Town and the "design district". Looking for the "it" neighbourhood for young urban professionals – Yates, Quadra and Fort Street might be just right.  Prefer hotel like views and proximity to tourist attractions – the condos on Douglas, Humboldt, Government and Wharf Street will likely fit bill.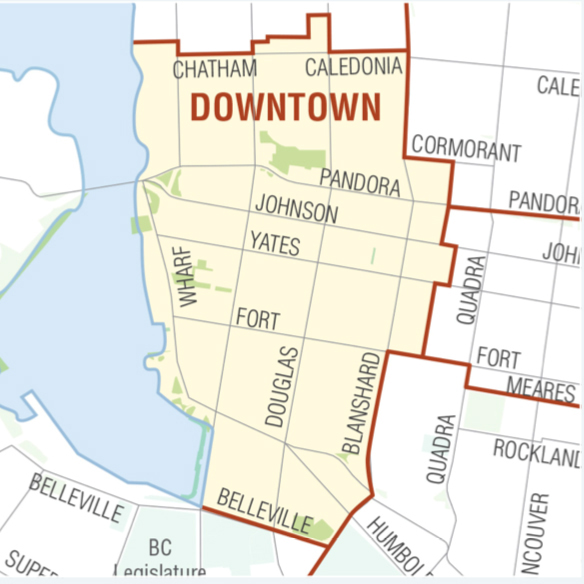 A high of 97 – Downtown Victoria and Harris Green come in number one for walk scores in the city Price range $730,000 – $1,425,000
Average price $1,001,250
Median days on market: 5
*2021 Access Downtown School
Chinese Public School (private)
College of Acupuncture and Oriental Medicine (private)
Pacific Rim College of Holistic Medicine (private)
Price range
condos from $40,000 to $4,599,900
townhomes from $565,000 to $1,158,000
Average price: condos $582,690 townhomes $809,677
Median days on market: condos 17, townhomes 19
*2021