Fairfield Neighbourhood Overview
Fairfield is the southern-most neighbourhood in the city of Victoria and is a pleasant mix of low rise apartments and single family homes ­– many of which date to the early 1900's, and are located on well maintained tree lined streets. Fairfield is bordered on the west by the 200-acre Beacon Hill Park, the ocean and scenic Dallas Road to the south and the municipality of Oak Bay to the east.
Fairfield is a favourite among young families and empty nesters because of its walkability and its many amenities, including parks, tennis courts, schools, children's playgrounds, the Cook Street Village shops and restaurants, and the Moss Street Farmers Market.  It is also an easy walk from most areas of the neighbourhood to Downtown Victoria and the Inner Harbour – making it easy to expand your dining options, attend live theatre or one of the many music events in the Inner Harbour.
What We Love
Fairfield is a neighbourhood with one of the highest walking scores in Greater Victoria. We love the treelined streets with century old homes that lead you to all the independently owned businesses in Cook St Village. Find carefully made bath and home products at ASH Refillery and Co. and fill your reading list from Books & Shenanigans. You can make new friends at the Victoria Lawn Bowling Club and support Vancouver Island farmers shopping at the Root Cellar and the Moss Street Market. If you prefer to walk rather than drive – this neighborhood should be on your list.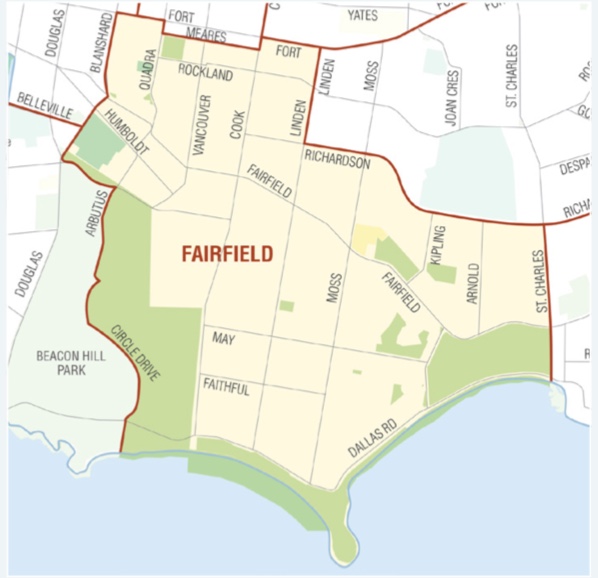 The high 80's and 90's – very walkable to walker's paradise and ideal for bikers Price range from $949,000 to $3,500,000
Average price: $1,569,416
Median days on market: 9
*2021 Margaret Jenkins Elementary
Sir James Douglas Elementary
Glenlyon Norfolk Middle and Senior schools
Price range
condos from $175,000 to $1,475,000
townhomes from $680,000 to $1,735,000
Average price: condos $563,825, townhomes $907,769
Median days on market: condos 12 townhomes 12
*2021