Gonzales Neighbourhood Overview
This small neighbourhood is located at the southwest tip of Oak Bay and juts out into the Strait of Juan De Fuca. It is bordered by Fairfield and Gonzales Bay to the west, South Oak Bay to the north and the Strait of Juan De Fuca to the south.
The neighbourhood is made up of a few hundred single family homes of varying ages.
Notable in this area is the Chinese Cemetery at Harling Point. The cemetery was created in 1903 and was named a national historic site by the Government of Canada in 1996. Many of those buried here are among the first Chinese immigrants to Canada. They came to Canada as cheap labourers to build the Canadian Pacific Railway in the late 1800s.
Because of it seaside location, in the last 15 years, many of the little beach cottages that were once found on Harling Point have been replaced by modern luxury homes.
Gonzales boasts three small parks on the ocean and a huge green space with a playground right in the middle of Harling Point.
What We Love
Gonzales beach, one of Victoria's few sandy beaches is a hidden jewel in the neighbourhood.  Incredible neighbourhood feel of Harling Point… So much so that kids leave their toys in Quimper Park for other kids to play with.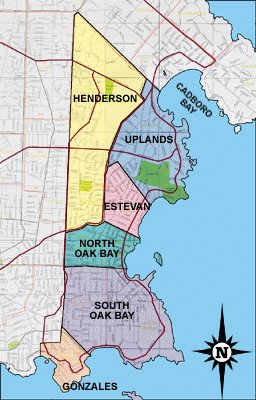 Mid 40's – while a neighbourhood  beach walk is at your door step, mort errands will require a car Price range from $1,300,000 to $4,850,000
Average price: $2,650,676
Median days on market: 18
*2021 Christ Church Cathedral School
Glenlyon Norfolk Elementary
Margaret Jenkins Elementary
Sir James Douglas Elementary
No condos or townhomes in the neighbourhood