Gordon Head Neighbourhood Overview
Gordon Head is very large neighbourhood. It is bounded on the east by Haro Strait, on the south by McKenzie Avenue and on the west by the Blenkinsop Valley.
Housing stock is quite varied. There is a generous supply of single family homes, but there are also many townhome complexes. The single family homes vary from 1970s homes to luxury homes on the waterfront.
Being adjacent to the University of Victoria, Gordon Head is a favourite location for out of town students renting during the school season.
Gordon Head is home to diverse ecosystems from coastal bluffs and marine areas, to Garry Oak meadows and Douglas Fir forests, many of which are protected as part of the local community plan.  The neighbourhood is also home to 27 parks including Mount Doug Park, the largest park in the municipality of Saanich.
What We Love
Hiking the miles of trails in the 450-acre Mount Doug Park and taking in the amazing 360° view from the lookout at the top. Also enjoying the weekly offerings of live theatre, music and academic musings at the University of Victoria.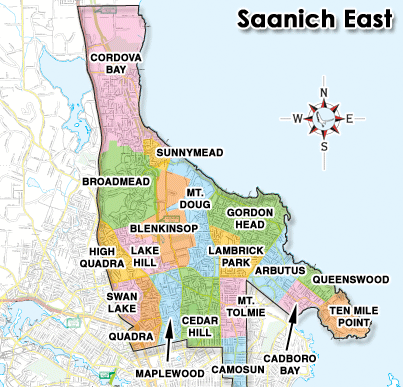 The mid 30's to the mid-60's (depending on your location) meaning some errands can be accomplished on foot, while others will require a car Price range from $800,000 to $2,950,000
Average price: $1,306,181
Median days on market: 7
*2021 Hillcrest Elementary
Torquay Elementary
Arbutus Middle School
Gordon Head Middle School
Lambrick Park Secondary
Mount Douglas Secondary
Maria Montessori Academy
University of Victoria
Price range
condos from $345,000 to $555,000
townhomes from $640,000 to $1,375,000
Average price: condos $469,200, townhomes $888,375
Median days on market: condos 14 townhomes 7
*2021