Hillside Quadra Neighbourhood Overview
Until the end of the 19th century, the Hillside Quadra area was largely agricultural and sparsely populated with market gardens and pastures remaining near Topaz and Quadra for some time.
Located just north of Downtown Victoria, Hillside Quadra is bordered by the three main access routes of Blanshard, Cook and Bay Street, making it easy to commute to most areas.
The neighbourhood is a mix of single family and multi-family options including condominiums, townhomes and apartments.  The area has a pleasant mature feeling complete with tree lined streets and grassy boulevards.
The neighbourhood is served by a small commercial centre known as Quadra Village. The village has been experiencing a revitalization and has an international feel with a number of international food stores including Caribbean, Dutch, Indian, Greek and Filipino.
The neighbourhood is also home to Topaz Park which is the third largest park in Victoria and a popular venue for athletes utilizing its four sports fields throughout the year.
What We Love
The Walk Street Community Gardens, shopping for international food in the unique shops in the village and the annual Quadra Village Day in May – a fun, family-friendly event with a broad range of entertainment, activities and community spirit.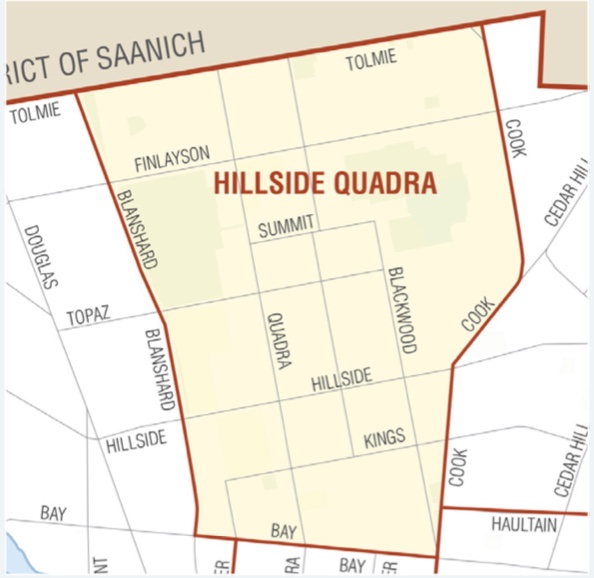 The mid 80's to mid 90's with most daily errands accomplished easily on foot or via bicycle Price range from $700,000 to $1,600,000
Average price: $956,520
Median days on market: 8
*2021 Quadra Elementary
SJ Willis Education Centre (alternative)
CDI College (private)
Vancouver Island School of Art (private)
Price range
condos from $261,000 to $670,500
townhomes from $546,000 to $869,000
Average price: condos $426,477 townhomes $732,607
Median days on market: condos 11 townhomes 18
*2021