Victoria Real Estate Spring market
The Victoria spring Real Estate market is in full swing, but we are still adjusting to the new normal.
Prices of single-family homes and condominiums in Greater Victoria at the end of March were substantially lower than a year ago, but have not dropped to pre-pandemic levels. The benchmark value for single-family home in the Victoria Core in March 2022 was $1,387,200. By March 2023, that figure had decreased 10.9% to $1,236,200. That was also down slightly from February's value of $1,247,200. Similarly, the benchmark price for a condo in the Victoria Core in March 2022 was $616,400 and a year later in March 2023 it had decreased by 9.1% to $560,300. This was also down somewhat from the February value of $568,200.
Sales volume was also down substantially compared to a year ago. Sales of single-family homes decreased 31.8% from March 2022 to March 2023. Sales of condominiums decreased 29.4% over the same period.
While inventory is up substantially over last year, it is still extremely low when we look at historical levels. There were 1970 active listings on the Victoria Real Estate Board at the end of March 2023, an 85.3% increase from the listings which were available a year earlier at the end of March 2022.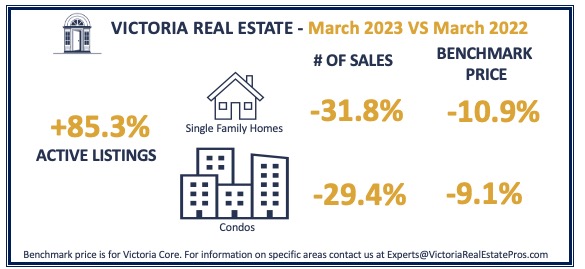 On April 12th, in its latest rate announcement, the Bank of Canada maintained its overnight lending rate at 4.5%.  The Bank forecasts Canadian GDP growth of 1.4% in 2023, 1.3% in 2024 and 2.5% in 2025.
The combined effect of our low inventory, an active spring market and the signal that we're getting from the Bank of Canada that interest rate increases may have come to an end, have led in the last several weeks to increased competition among buyers, particularly below the $1.3M mark for single-family homes and the $700,000 mark for condominiums.
While we're not seeing the craziness that we experienced during the height of covid, when there were multiple offers on virtually every properly priced home and unconditional offers were the order of the day, we have seen an increasing number of multiple offers in the last several weeks. Unless we suddenly see a whole whack of new listings come on the market, we expect to be seeing more and more multiple offers. We invite our clients to take a look at the article we wrote and posted on our website entitled "How To Be Successful In A Multiple Offer Situation In The Victoria Real Estate Market". 
In its latest quarterly forecast, the Canadian Real Estate Association has forecast that sales of properties across Canada will decline slightly this year compared to last year, but only by 1.1%. They also forecasted national average house prices will decline 4.8% this year. But increase from 2023 to 2024 by 4.7%.
If you have questions about the real estate market or buying or selling a home in Victoria.  We're here to help.
For more statistics on the Victoria real estate market – click on the links to the right for the latest reports and data from the Victoria Real Estate Board, the British Columbia Real Estate Association, the Canadian Mortgage and Housing Corporation and the Canadian Real Estate Association.