Victoria Real Estate Market Report Update May 2021
To put the performance of the Victoria real estate market into perspective, in this report we usually compare last month's numbers to the numbers of the same month a year ago. The problem with doing that for April of this year is that the full weight of the pandemic hit our real estate market starting in April 2020, resulting in seriously diminished activity in our market.
To get a more meaningful picture of the Victoria real estate market, we need to look at how our April market looked in the years before the pandemic. If we look at April home sales for the years 2014 through 2019, the average number of sales in the Victoria Real Estate Board was 886. This April, 1116 properties sold in the Victoria Real Estate Board. In April 2020, when the pandemic first hit, only 287 properties sold. Although activity in the Victoria market is still very robust, condo sales in April were down 12.2% from March 2021 and single-family home sales were down 1.7% from March.
| | | | |
| --- | --- | --- | --- |
| | April 2014-2019 (avg) | April 2020 | April 2021 |
| Number of Sales | 886 | 287 | 1116 |
Lack of available housing inventory continues to be a major driver in our market. Active listings available for sale at the end of April 2021 were 36.9% lower than those available at the end of April 2020. However, the number of homes listed for sale at the end of April was 11% more than available at the end of March 2021. Although it's definitely too early to tell, this may indicate the very early stages of a cooling in our very overheated market. We're still seeing plenty of multiple offer situations, but not every listing is garnering multiple offers.
Prices continued to rise in April. The benchmark price for single-family home in the Victoria core increased 12.6% from April 2020 and 2.9% from March 2021. Condos experienced a more modest 2.6% increase from April 2020 to April 2021.
It's always interesting to see governments intervene in markets as a result of public pressure. During the red hot market in 2016, public pressure pushed the previous BC Liberal government to bring in the 15% foreign buyers tax in Metro Vancouver. At the time, the general feeling seemed to be that foreign nationals were on a buying spree in the Lower Mainland and that was driving prices up. More recently, in 2019, the NDP government brought in the "Speculation Tax", which was also designed, in part, to target foreign buyers who again everyone was convinced were driving up the price of BC real estate. That tax upped the Liberal's 15% foreign buyers tax to 20% and expanded the tax to other major cities outside of Metro Vancouver, including Victoria. Although these taxes have given the government some extra spending money, they've had little effect on our red hot market. High demand, lack of supply and low interest rates have been the drivers of the Victoria real estate market, not foreign buyers.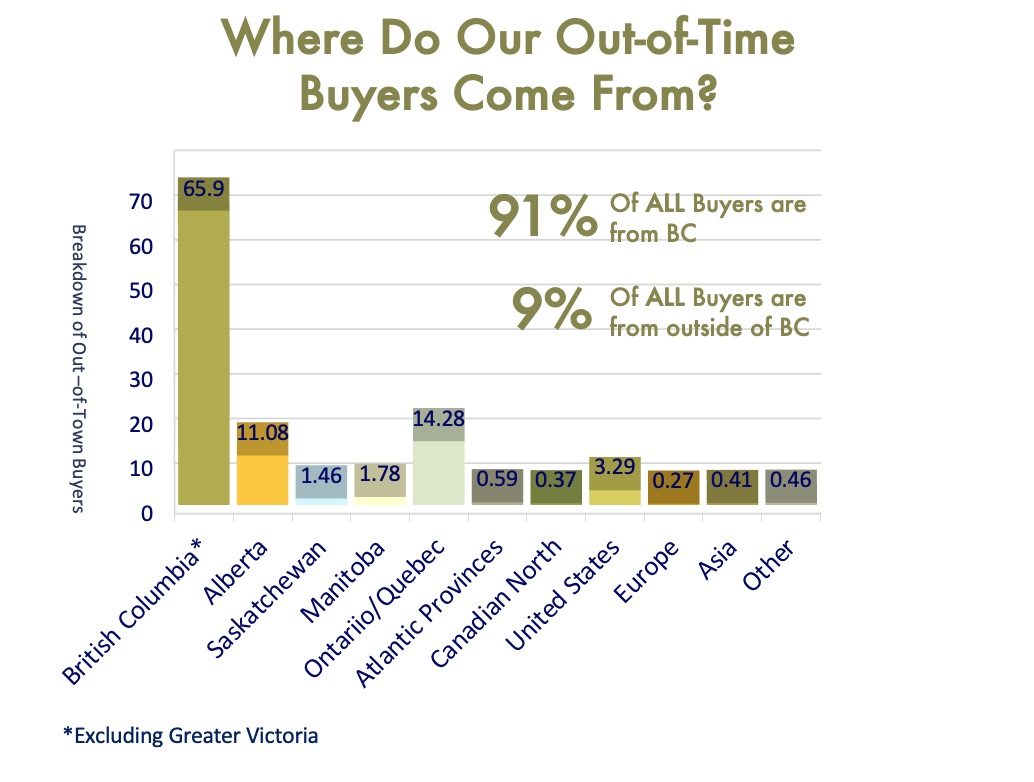 Despite the record low mortgage rates Canadians have been enjoying, according to CMHC, the average monthly mortgage payment for new mortgages has increased. This is not surprising, given that buyers are having to pay more for homes and get bigger mortgages to buy those homes.
BMO Senior economist Robert Kavcic, predicts markets may soon "crest,". "Indeed the factors that propelled this market to dizzying heights might be ready to crash soon.". He cites vaccination deployment and rising home inventories as two big reasons for the market to peak. He also noticed that the Bank of Canada is starting to talk about higher interest rates. Although Kavcic is talking specifically about cottage country in Ontario as his example, his comments can be extrapolated to other markets across Canada.
On a more positive note, Financial Post writers Murtaza Haider and Stephen Moranishave said that the predicted housing crash is, "Not likely to happen anytime soon considering the market strong fundamentals". They point to a financially robust consumer base and a very low overall incidence of mortgage delinquencies. They distinguish Canada's housing market from the United States where subprime mortgages were at the heart of the financial meltdown in 2008.
While the residential market continues to be 'hot', as we forecasted in an earlier update, we've seen an increase in vacant office space.  In fact, BMO senior economist that the vacancy rate of office space in Canada is now at its highest level in 25 years.
If you have been feeling a little overwhelmed by the intensity of the market, you are not alone.  However, we are seeing a shift.  While we don't anticipate significant price drops, we do believe that the frenzied pace we are were experiencing early this year maybe starting to ease.
For a link to the full Victoria Real Estate Board report as well links to recent reports from the BC Real Estate Association and the Canadian Mortgage and Housing Corporation click on the links to the right.
If you have any questions about a specific neighbourhood or how sales are tracking in your area, just contact us.  We are here to help.
Hal Decter, LLB & Audra Poole
Victoria Realtors