Victoria Real Estate Market Report – November 2020
The fast pace of home sales in Victoria which began in June has not slowed down. In October, about 60% more properties were sold in the Victoria market than in October 2019. Condominium sales were up 70.8% from October 2019. Single family home sales were up 53.1% from October 2019.
We continue to suffer from a lack of housing inventory in the Victoria Real Estate market. There were almost 20% fewer properties available at the end of October of this year than at the end of October 2019 and 11.2% fewer properties available than were available one month earlier at the end of September 2020.
Mortgage rates continue to be incredibly attractive to buyers, with the average 5-year fixed rate being under 2%. This is no doubt contributing to the buying spree that we've seen in the past few months. And the effect of COVID forcing people to spend more time in their homes and less money on vacations and restaurant meals is also causing people to consider upgrading their accommodation.
We are all seeing reports about how housing prices are skyrocketing in Canada. While average prices in the Greater Victoria Core are forecast to rise approximately 9% this year, it's important to remember that these are average prices. Average prices take into account all levels of housing stock, including multi-million dollar luxury homes which have sold particularly well this year compared to previous years. For purposes of market tracking, we are increasingly using the benchmark price of homes which is based on the Home Price Index. The benchmark price of a single-family home in the Victoria Core rose about 2% from October 2019 to October 2020. From the chart below, it can be seen that the benchmark price of single-family homes in the Victoria Core rose sharply in 2016 and 2017, somewhat slower between 2017 and 2018 and has remained relatively stable for the last two years.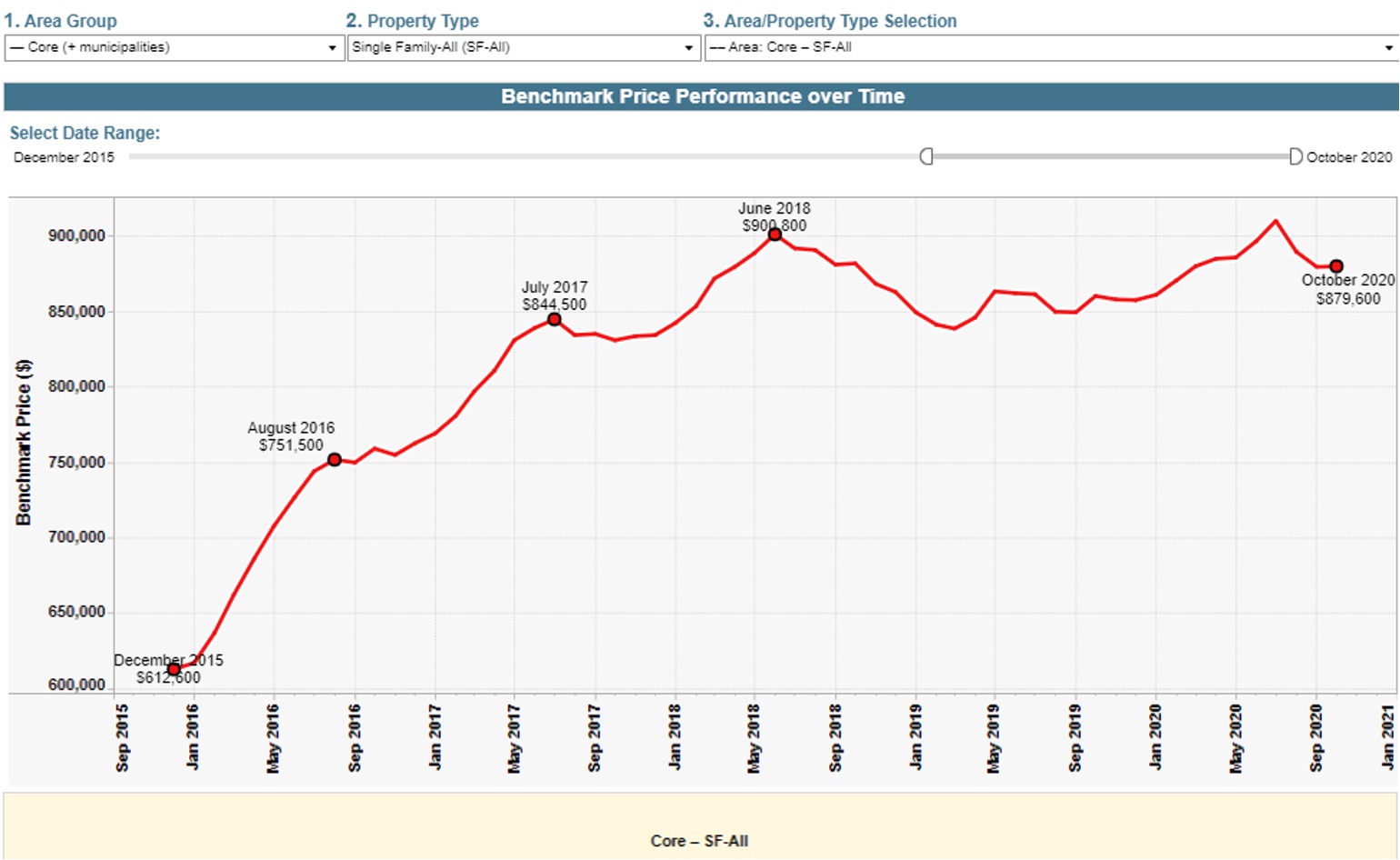 Buyers who have been sitting on the sidelines waiting for the pandemic to push down house prices in Victoria are going to have to wait longer. In October, single family homes in the Victoria Core sold for an average of 98% of their list price. In the third quarter, around 1/3 of single-family home sales were over the asking price.
As expected, not everyone believes the party is going to go on forever. Benjamin Tal, deputy chief economist at CIBC in an interview with BNN Bloomberg, called our current situation "the most housing-friendly-recession ever."  He went on to say, "even the Governor of the Bank of Canada is telling us, listen, don't expect any growth basically over the next six months. The party is over. You can't have 0% increase in the economy with the housing market continuing to boom."
In a recent press conference, CMHC's chief economist, Bob Dugan, told reporters that the agency stands by the original forecast it made in May that warned of a decline in Canadian housing prices between nine and 18%. Dominion Lending Centres chief economist Sherry Cooper caution that CMHC is being "overly pessimistic" and Helmut Pastrick, Central 1 chief economist, indicated that record low mortgage rates will continue to drive sales prices higher.
We continue to be optimistic about the Victoria housing market. Although we may see prices decline in the short term, we will weather this recession as we have all others in the past and continue to thrive.
You can find the full Victoria Real Estate Board report as well as recent reports from the BC Real Estate Association and the Canada Mortgage and Housing Corporation by clicking on the links to the right.
If you have any questions, we're here to help.
Hal Decter, LLB & Audra Poole
Victoria Realtors