Uplands Neighbourhood Overview
Uplands is part of the District of Oak Bay, but is a neighbourhood worth highlighting.  The 465-acre neighbourhood is located at the northeast end of Oak Bay and is bordered on the north by Cadboro Bay.  A prominent example of garden suburb design, it was established in 1907.
This elegant neighbourhood is made up of estate sized lots and serpentine streets. The houses are built to impress and often feature sprawling gardens and views ranging from ocean front to park to the spectacularly appointed Uplands Golf Course and the Royal Victoria Yacht Club.
Uplands is dominated by large historic homes that come with a significant price tag.
What We Love
The vistas, the mature landscapes and the ornate lamp posts that line the streets of a neighbourhood that could easily be used as a backdrop for an episode of Downton Abbey.  If price is not an object and you're looking for estate style living ­– consider Uplands.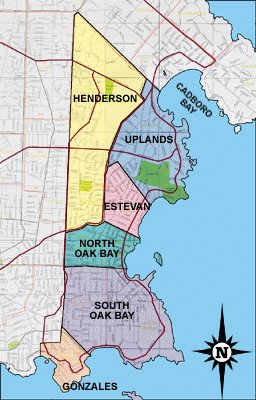 In the low 50's the neighbourhood is beautiful to walk in but if you need a coffee shop or grocery you will need a ride Price range from $1,850,000 to $8,700,000
Average price: $3,263,963
Median days on market: 13
*2021 Willows Elementary
Monterey Middle School
Oak Bay High School
Glenlyon Norfolk School (private)
St. Michael's University School (private)
Sorry, there are only single family homes in the Uplands neighbourhood