Vic West & Songhees Neighbourhood Overview
Victoria "Vic" West and the Songhees neighbourhoods are located in the west portion of the city – surrounded by water on three sides.  The peninsula has easy accessibility to Downtown Victoria via the Johnson Street and Bay Street bridges and the Songhee waterway is a favourite waterfront walkway used by locals and visitors. The Galloping Goose Trail, much loved by cyclists and walkers, passes through Vic West.
The Songhees area is dominated by condominiums and townhomes appointed to take advantage of the ocean and city views.  While the Songhees area lacks a true village centre, the area has a resort feel and is an easy walk to downtown along waterfront path and over the new Johnson street bridge, which was built with pedestrians and cyclists in mind.
Vic West is set a little further up The Gorge and is bordered by Esquimalt to the north and downtown to the south.  The area's parks, bike paths, very close proximity to downtown  and  the availability of more affordable single family homes have made it popular among young families.   We are also seeing an emergence of cool shops, eateries and community gardens, which are all adding to its neighbourly appeal.
What We Love
We love how different the neighbourhoods of Vic West and Songhees are.
Songhees' has a resort feel, with many of the condominiums appointed to take advantage of views of the water, Legislature, and Inner Harbour.   Songhees also has a spectacular waterfront walkway that offers beautiful vistas as well as some not too shabby stops at a super yacht marina and the Boom and Baton, one of Victoria's newest waterfront restaurants.
Vic West feels more organic.  Kids in strollers, young urbanites who prefer to cycle to work, heritage homes with character,  impressive kitchen gardens and backyard chicken coops create an authentic community vibe.
Plus both neighbourhoods benefit from the Gorge Waterway, the Galloping Goose Trail, and the ability to commute downtown by foot, by bike or the Victoria Harbour Ferries.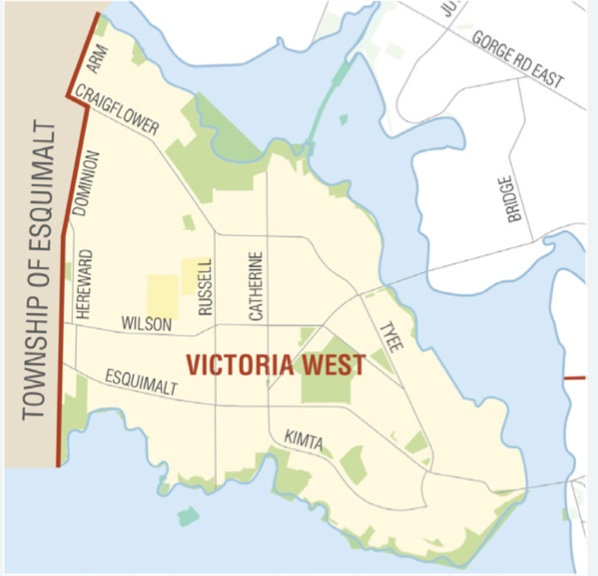 70's to low 80's – this neighbourhood allows residents to accomplish most  most errands  on foot – it's also as "flat as a pancake" making it ideal for biking Price range from $635,00 to $1,650,000
Average price: $1,019,183
Median days on market: 10
*2021 Price range
condos from $310,900 to $965,0,00
townhomes from $415,000 to $1,350,000
Average price: condos $537,532, townhomes $763,932
Median days on market: condos 11 townhomes 13
*2021